M.1898 Gewehr mit Schulterriemen (Rifle with Sling)
The Gewehr 98 is an internal magazine-fed, bolt-action rifle, with a capacity for five rounds of ammunition. The ammunition that the G98 is chambered for is the standard German 7.92 x 57 mm round.
The Gewehr 98 is the service weapon of JR63. We have found no evidence to indicate that during WWI JR63 was ever armed with any weapon other than the standard Gewehr 98. All members are REQUIRED to possess a proper Gew 98. Each rifle will be complete with a sling, parade clip and cleaning rod. The G98 also must have the "Lange" type rear sight.
While your weapon should be clean, and in reputable condition, the use of collector grade weapons is frowned upon, as WWI reenacting is very hard on the finish of your weapon. There are unit armorers available to help with any problems you may have in making the weapon fire. These armorers can also give instruction in helping the member to refinish his weapon properly, if needed.
When buying a G98, it is best to buy a real German military GEW98. However, there are options. Germany exported many GEW98s and there were Czech and Turk copies that may be acceptable, but do not assume and be sure to ask. There is literally endless variations of Mauser model 98's and many appear to be close to the GEW98, and one may think it may be easy to make them look correct, but the reality will disappoint you. The only model that we are aware of that can convincingly be converted to the GEW98 is the Czech VZ98/22. Unfortunately, after locating and buying the pieces required to make the conversion, and labor if you cannot perform your own gunsmithing, most will actually spend more than if they just bought a German GEW98 to start with. However, if you do insist on pursuing the conversion, IR63 can provide you with thorough instructions.
If you drop a stripper clip of ammo on the ground, DO NOT LOAD IT, this will most certainly cause a jam for sure! If you have a problem with your Gewehr or don't know what to do, ask your Gruppenführer for help!
"Das Gewehr 98"
Extractor
Extractor Collar
Bolt
Firing Pin
Firing Pin Spring
Safety
Bolt Sleeve
Cocking Piece
Bolt Sleeve Lock
Bolt Sleeve Lock spring
Receiver
Bolt Stop Screw
Bolt Stop
Ejector
Rear Sight, Lange
Front Sight Blade
Front Sight
Sear Spring
Sear
Sear Pin
Trigger Pin
Trigger
Floorplate Catch Pin
Floorplate Catch Spring
Floorplate Catch
Guard Screw, rear
Lock Screw, rear
Guard Screw, front
Lock Screw, front
Follower
Magazine Spring
Floorplate
Trigger Guard
Front Band
Bayonet Stud
Bayonet Stud Pin
Cleaning Rod
Band Springs
Lower Band w/ sling swivel
Handguard
Buttplate
Buttplate Screws
Rear Swivel
Swivel Screws
Stock
Barrel
Recoil Lug Assembly
Marking Disc
Cleaning Rod Nut
Hinged Breech Cover (Optional)
Hinged Muzzle Cover (Optional)
M.1898 Gewehr Cleaning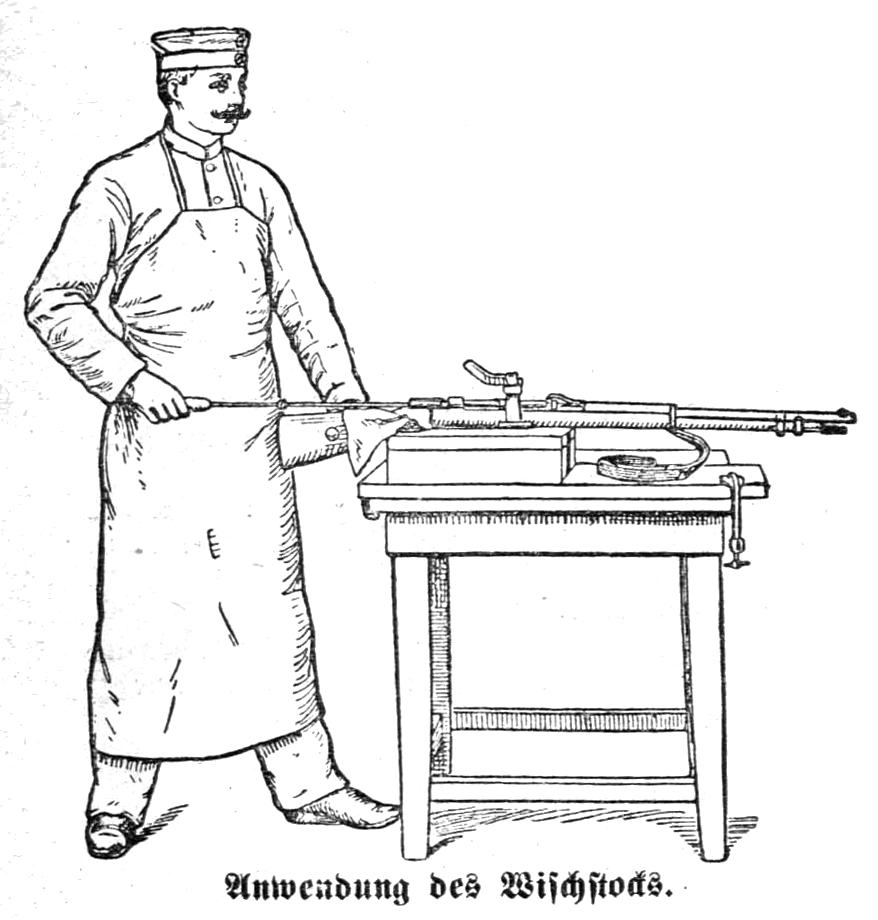 The question on what to carry during an event to clean the rifle is an often asked one - that doesn't really have one simple answer. In order to help, we have created a page on rifle cleaning — just click on the image at right.
M.1898 Gewehr Breakdown/Assembly
We have toyed with the idea to create a 'how-to' on the breakdown/assembly of the GEW98 if for no other reason as that there isn't one in existence specifically for the GEW98 (that we know of), but to be honest, mechanically the GEW98 and K98 are nearly identical, and there are scores of tutorials online for the K98. Therefore, we reviewed a few of them and we recommend this one from Der Erste Zug:
der Karabiner 98K - a breakdown